Der tapfere Schulschwänzer
Director: Winfried Junge, 66 Min., Color, Feature Film
Deutsche Demokratische Republik (DDR)
DEFA-Studio für Spielfilme, 1967
Film/Video Format

35 mm

Length in m

1815

Other Title

Eine selten dusslige Geschichte; Eine ganz dusslige Geschichte

English Title

The Valiant Truant

Premiere Date

Release Date (for Cinema)
Short Summary (English)
Thomas, a schoolboy from grade 4a, ditches school on a sunny day and spends his time in the streets of Berlin. Then, he suddenly discovers a burning flat and immediately calls the fire brigade. His quick help helps to save the lives of two small children. But when a fire-fighter wants to thank him and asks for his name, little Thomas runs away - he has a guilty conscience for ditching school. On the next day, his good deed is praised in the newspaper and his teacher talks about the anonymous lifesaver in class. Thomas does not know how to react, because he said that he missed school because of a tooth ache. But in the end, Thomas admits his lie to the fire-fighters, who in the meantime have detected the lifesaver.
(Quelle: filmportal)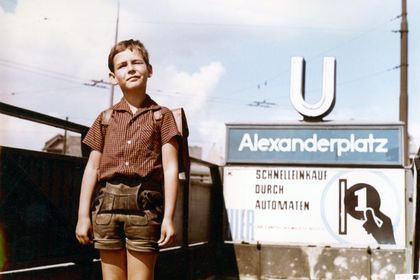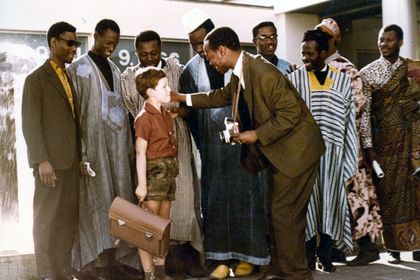 Film Crew
Script

Wera Küchenmeister
Claus Küchenmeister
Winfried Junge

Cast

André Kallenbach (Thomas Lohmann)
Hartmut Tietz (Dieter, Thomas´ Freund)
Günter Ott (Thomas´ Vater)
Jessy Rameik (Lehrerin)
Christoph Engel (Schuldirektor)
Ilse Voigt (Oma Krüger)
Susanne Weser (Kleine Andrea)
Lutz Erdmann (Arzt)
Dieter Stark (Wirt)
Karl-Heinz Liedko (ABV)
Ingo Kallenbach (Thomas' Bruder)
Uwe Hase (Matrose)
Hartmut Kopp (Junger Mann mit Zeitung)
Gerhild Leider (Pionierleiterin)
Manfred Bendick (Fotoreporter)
Willi Wolter (Hausmeister)
Ulrike Burmeister (Klassenkameradin)
Armin Schnelle (Klassenkamerad)
Christine Kloock (Klassenkameradin)
Michael Grimm (Klassenkamerad)
Frank Grodde (Klassenkamerad)
Günter Noack (Klassenkamerad)
Manfred Warnecke (Klassenkamerad)
Uwe Schenk (Klassenkamerad)
Angelika Linke (Klassenkameradin)
Christina Hoff (Klassenkameradin)
Harald König (Klassenkamerad)
Peter Matz (Klassenkamerad)
Jürgen Kapé (Klassenkamerad)
Sabine Prengel (Klassenkameradin)
Brigitte Fischer (Kind)
Andrea Gängelbach (Kind)
Sabine Bessert (Kind)
Andrea Missok (Kind)
Hendrik Finsel (Kind)
Angela Finsel (Kind)
Uwe Kalina (Kind)
Tilo Szezech (Kind)
Ilona Pewestorf (Kind)
Gerald Bernsee (Kind)
Peter Tunk (Kind)
Andreas Oertel (Kind)
Gudrun Schleske (Kind)
Rudi Mösch (Oberst der Feuerwehr)
Wolfdietrich Goldbach (Oberlöschmeister)

Unit Production Management

Heinz Bullerjahn
Christel Kruse
Short Summary (German)
Statt zur Schule zu gehen, bummelt der kleine Thomas durch die Straßen von Berlin. Dabei entdeckt er einen Wohnungsbrand und alarmiert sofort die Feuerwehr, wodurch zwei Kinder gerettet werden können. Als ein Feuerwehrmann ihm danken und seinen Namen aufschreiben will, läuft Thomas davon - weil er ja eigentlich in der Schule sein müsste. Am nächsten Tag steht seine anonyme Heldentat in der Zeitung, das Weglaufen wird als Bescheidenheit ausgelegt. Die Lehrerin spricht mit den Kindern darüber und Thomas gerät in Gewissenskonflikte. Er kann sich nicht zu der Tat bekennen, da er fürs Schuleschwänzen Zahnschmerzen vorgegeben hat. Die Feuerwehrleute finden ihn und wollen ihm zusammen mit den Geretteten danken. Da bekennt sich Thomas tapfer zu seiner Lüge.
(Quelle: Das zweite Leben der Filmstadt Babelsberg. DEFA-Spielfilme 1946-1992)