Der Traum vom Elch
Director: Siegfried Kühn, 88 Min., Color, Feature Film
Deutsche Demokratische Republik (DDR)
1986
Film/Video Format

35 mm

Length in m

2426

English Title

I Dreamed Of My Elk

Premiere Date

Release Date (for Cinema)

Literary Source

Otto, Herbert: "Der Traum vom Elch", Roman
Short Summary (English)
The nurses and friends Anna and Annette grow desperate over men and love. At the hospital, Anna has fallen in love with Markus, whom she lovingly calls "moose", but they only meet twice a year, when Markus has time for her. In the meantime, she keeps afloat with flights of fancy. Meanwhile, Annette clings to the painter Ludwig who cannot stand such a close relationship. Through Annette and Ludwig, Anna meets an attractive married man but her high spirits do not last long. Annette commits suicide because of her growing desparation. Her death sends Anna into a deep emotional crisis.
(Quelle: filmportal)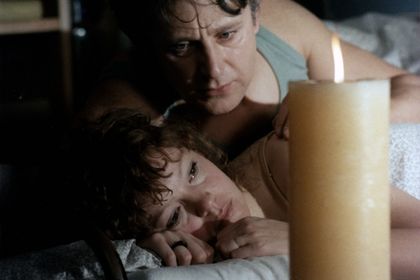 Film Crew
Cast

Katrin Sass (Anna)
Marie Gruber (Anette)
Christian Steyer (Ludwig)
Detlef Heintze (Stefan)
Klaus Piontek (Dr. Kurt)
Eckhard Becker (Bernd)
Dagmar Manzel (Barbara)
Moises Vanegas (Pablo)
Werner Dissel (Paulchen)
Klaus Bieligk (Taxifahrer)
Elisabeth Zwieg-Knothe (Anästhesie-Ärztin)
Karin Beewen (Frau Kurt)
Thomas Gumpert (Stationsarzt)
Ilse Bastubbe (Serviererin)
Raphael Gruber (Kind Philipp)
Irene Kleinschmidt (Krankenschwester)
Romy Nickiewicz (Krankenschwester)
Hans-Jochen Röhrig (Pathologe)
Roman-Eckhard Galonska (Gast / Schaffner)
Marie-Anne Fliegel (Gast)
Thomas Hailer (Gast bei Dr. Kurt)
Dieter Pose (Gast bei Dr. Kurt)
Christa Herricht (Gast bei Dr. Kurt)
Angelika Kempe (Gast bei Dr. Kurt)
Evelyn Frohberg (Gast bei Dr. Kurt)
Werner Kos (Gast bei Dr. Kurt)
Theresia Wider (Gast bei Dr. Kurt)
Rose Becker (Gast bei Dr. Kurt)
Ursula Gropp (Gast bei Dr. Kurt)
Swetlana Skorochodowa (Gast bei Dr. Kurt)
Herbert Hentschel (Gast bei Dr. Kurt)
Jutta Gallinat (Gast bei Dr. Kurt)
Oskar Daum (Gast bei Dr. Kurt)
Elfi Gäbel (Gast bei Dr. Kurt)
Peter Mischke (Gast bei Dr. Kurt)
Eberhardt Wintzen (Gast bei Dr. Kurt)
Joachim Gerth (Gast bei Dr. Kurt)

Assistant Camera

Lothar Marten
Hans-Joachim (auch: Jochen) Zillmer

Music

Hans Jürgen Wenzel
Giuseppe Verdi (Musikalische Motive aus "La Traviata" und "Rigoletto")
Wolfgang Amadeus Mozart

Sound

Klaus Tolstorf
Helga Kadenbach (Tonmischung)

Make-Up

Irmela Holzapfel
Jürgen Holzapfel

Props

Rainer Matschke
Frank Jansa

Unit Production Management

Design

Hans-J. Biedermann (Grafiken, Tempera, Kreidezeichnungen)
Peter Rohn (Ölbilder)

Consulting

Gunter Ballauf (Oberarzt)
Helmut Schierhorn

DEFA Photography

Hans-Joachim (auch: Jochen) Zillmer
Awards
Sektion Theorie und Kritik des Verbandes der Film- und Fernsehschaffenden der DDR (1987): Kritikerpreis "Die große Klappe" für die beste weibliche Darstellerleistung in Film- und Fernsehproduktionen 1986 - Katrin Sass
Short Summary (German)
Die Krankenschwestern Anna und Anette sind Freundinnen. Beide haben Probleme mit der Liebe. Anna hat in der Klinik Markus, den sie "Elch" nennt, kennengelernt. Zweimal im Jahr hat er Zeit für sie, dazwischen träumt sie von ihm, wartet auf das nächste Treffen. Anette liebt den Maler Ludwig, klammert sich an ihn. Doch der kann die Enge nicht ertragen.
(Quelle: Das zweite Leben der Filmstadt Babelsberg. DEFA-Spielfilme 1946-1992)
Short Summary (Other Languages)
Anna e Anette, due infermiere, sono molto amiche. Entrambi hanno problemi di cuore. In clinica Anna ha conosciuto Markus, soprannominato "alce", ma il ragazzo non ha mai tempo per lei e Anna, aspettando il prossimo appuntamento, non fa che sognare di lui. Anette, innamorata del pittore Ludwig, lo assilla, ma lui non sopporta la troppa vicinanza. (Italienisch)