Für die Liebe noch zu mager?
Director: Bernhard Stephan, 86 Min., Color, Feature Film
Deutsche Demokratische Republik (DDR)
DEFA-Studio für Spielfilme, 1973
Film/Video Format

35 mm

Length in m

2356

Other Title

Wo die Liebe hinfällt; Das macht, es hat die Nachtigall

English Title

Still Too Slight For Love; Too Young for Love

Premiere Date

Release Date (for Cinema)

Releases

DVD: ICESTORM Entertainment GmbH / www.icestorm.de
DVD: University of Massachusetts (UMASS) - DEFA Film Library / www.umass.edu/defa
Short Summary (English)
18-year old Susanne works as a skilled labourer in a textile factory. She is working hard and diligently. Furthermore, she always helps others and takes on every little task that she is asked to do. For her work, she receives a lot of credit, but nobody is interested in her as a person - nor as a young woman. The men completely overlook her, even the slightly meditative Lutz whom she knows since they were children and whom she has fallen in love with. But Lutz has not even noticed that Susanne has turned into a woman. When even her friend Daisy treats her ruthlessly, Susanne finally comes to the point where she comes out of her shell and speaks up for her own interests. She succeeds to win Lutz's heart and is happy with him for a short period of time. Her new-found confidence even helps her to cope with their eventual break-up.
(Quelle: filmportal)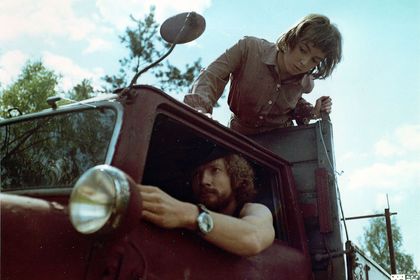 Film Crew
Cast

Simone von Zglinicki (Susanne)
Christian Steyer (Lutz)
Norbert Christian (Susannes Vater)
Ursula Staack (Daisy)
Karl Thiele (Martin)
Uwe Kockisch (Wolfgang)
Fred Delmare (Ossi)
Karin Beewen (Monika)
Renate Gey (Astrid)
Rolf Günther (Rolf)
Renée Kubsch (Ina)
Dieter Jäger (FDJ-Sekretär)
Halina Müller (Mutter von Lutz)
Gudrun Wendler (Alfons Freundin)
Carl-Hermann Risse (Alfons)

Scenario

Manfred Freitag
Joachim Nestler

Production Design

Heike Bauersfeld
Hans-Jürgen Deponte

Sound

Helga Kadenbach
Klaus Wolter

Musical Performance

Klaus Renft Combo (Musikgruppe)

Costume Design

Barbara Braumann (geb. Müller)
Short Summary (German)
Susanne ist 18 Jahre alt und Facharbeiterin in einem Textilbetrieb. Sie ist fleißig und immer da, wenn es Arbeit gibt oder jemand Hilfe braucht, zu Hause und im Betrieb. Am Ende der Maidemonstration werden ihr alle Fahnen in die Hand gedrückt, bei der GST-Übung ist sie die aktivste, aber beim Tanz wird sie als letzte aufgefordert. Dass auch sie Wünsche hat, bemerkt keiner - auch der etwas versponnene Lutz nicht, in den sie verliebt ist. Die beiden sind zusammen aufgewachsen, doch dass sie inzwischen erwachsen ist, sieht er nicht. Das egoistische Verhalten ihrer Freundin Daisy löst eine Wandlung in Susanne aus. Sie entwickelt Selbstbewusstsein, Rückschläge inbegriffen, und erobert sich Lutz. Die beiden verbringen eine kurze, glückliche Zeit. Als Lutz eines Tages von dannen zieht, er will die Welt erobern, verabschiedet Susanne ihn mit einem weinenden und einem lachenden Auge.
(Quelle: Das zweite Leben der Filmstadt Babelsberg. DEFA-Spielfilme 1946-1992, S. 458 f.)
Short Summary (Other Languages)
Susanne, una diciottenne diligente e sempre disponibile, lavora come operaia specializzata in un'industria tessile. Benché sia sempre la più attiva, i ragazzi sembrano non accorgersi di lei - neanche Lutz, un giovane dall'aria trasognata, di cui Susanne si è innamorata. Dopo un diverbio con la sua amica Daisy, Susanne capisce che è ora di cambiare. Sicura di sé, conquista il giovane Lutz. Insieme trascorrono un periodo molto felice, ma quando Lutz decide di lasciarla per conquistare il mondo, Susanne si congeda da lui amaramente felice. (Italienisch)