Guten Tag, lieber Tag
Director: Gerhard Klingenberg, 90 Min., Black-White, Feature Film
Deutsche Demokratische Republik (DDR)
DEFA-Studio für Spielfilme, 1961
Film/Video Format

35 mm

Length in m

2450

Other Title

Trompete gesucht; Die Trompete

English Title

Good Morning, Day

Premiere Date

Release Date (for Cinema)
Short Summary (English)
Engineer Strebel's apprentices think of nothing else but music and dancing, although they should really concentrate on their marks. Consequently, Strebel is anything but delighted with his pupil. To top it all, a TV show becomes interested in a performance by Strebel's apprentices. To calm down their teacher, Jutta Fröhlich, who has already cast an eye on Strebel, makes him an offer: When they better their marks, Strebel would permit them to make a performance on television. Staunch Strebel agrees - and soon discovers his talent as a trumpeter during the tryouts. In the end, Strebel even performs a superb trumpet solo on television.
(Quelle: filmportal)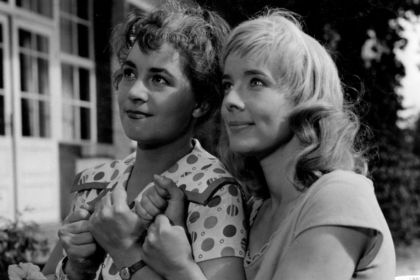 Film Crew
Script

Günter Kunert
Gerhard Klingenberg

Cast

Rudolf Wessely (Strebel)
Margret Homeyer (Jutta Fröhlich)
Hedi Marek (Tina)
Manfred Krug (Peter)
Peter Festersen (Hajo)
Hans-Edgar Stecher (Knoby)
Horst Buder (Krümel)
Eckart Friedrichson (Benno)
Annekathrin Bürger (Lollo)
Ellinor Vogel (Tante Olly)
Walter Jupé (Evamek)
Herbert Köfer (Dr. Paulbacke)
Willi Narloch (Sauer)
Georg Peter-Pilz (Direktor)
Hans Knötzsch (Polizist)
Fritz Ernst Fechner (Polizist)
Gertrud (auch: Trude) Bechmann (Ältere Lehrerin)
Gert Andreae (Junger Lehrausbilder)
Paul Streckfuß (Älterer Lehrausbilder)
Harald Moszdorf (Kapitän)
Werner Troegner (Schaffner)
Fritz Hofbauer (Angler)
Albert Zahn (Arbeiter)
Karl-Heinz Weiß (Arbeiter)
Regina Perschke (Patientin)
Peter Kiwitt (Herr Knack)
Otto-Peter Fliedner (Bühnenmeister)
Erika Stiska (Verkäuferin)
Günter Margo (Mundharmonika-Verkäufer)
Wolfgang Thal (Kabelschlepper)
Ulrich Folkmar (Klinkendüwel)
Amy Frank (Klinkendüwels Frau)
Fred Düren (Kartenkontrolleur)
Kurt Rackelmann (Ansager)
Rita Hempel (Dicke Nachbarin)
Heinz Steinberg (Herr vom Fernsehfunk)
Gustav Stähnisch (Ein Zuschauer)
Margot Ebert (Fernsehansagerin)
Ingeborg Naß (auch: Nass) (Ansagerin im Werbefernsehen)
Martin Rensky (Ein Gast)
Veronika Axmann (Mädchen)
Astrid Much (Mädchen)
Erich von Dahlen (Requisiteur)
Johanna Freiberg (Tänzerin (Spanisches Tanzpaar))
Helmut Schindler (Tänzer (Spanisches Tanzpaar))
Fritz Felske (Die 2 Rotters)
Willi Kopischke (Die 2 Rotters)
Gabriele Klose (Tänzerin)
Ingrid Eberhardt (Tänzerin)
Horst Kittner (Zauberkünstler)
Heinz Loose (Jongleur)
Eva Schwarcz (Mutter von Tina)
Erich Pohle (Lehrausbilder)

Assistant Director

Ree von Dahlen
Ilse Goydke

Music

Peter Fischer
Wolfgang Pietsch
Manfred Krug ("Ich weiß nicht, liebst Du mich?", "Dein Mund ist Sonne")

Unit Production Management
Short Summary (German)
Die Lehrlinge eines Betriebes interessieren sich mehr für flotte Rhythmen als für ihre Arbeit, sehr zum Unmut des Ingenieurs Strebel. Als sogar das Fernsehen mit dem flotten Sextett der Jungen einen öffentlichen Auftritt plant, ist Strebel außer sich. Die Jugendgruppen-Sekretärin Jutta, die dem verklemmten Strebel sehr zugetan ist, ringt ihm ein Abkommen ab: bessere Zensuren, dann Fernsehauftritt. Und plötzlich entpuppt sich auch Strebel als Musikenthusiast, kramt seine alte Trompete hervor und findet sich unversehens als Solist der Gruppe wieder.
(Quelle: Das zweite Leben der Filmstadt Babelsberg. DEFA-Spielfilme 1946-1992)