Keine Pause für Löffler - Ein Lehrer und seine 6c
Director: Winfried Junge, 71 Min., Black-White, Documentary
Deutsche Demokratische Republik (DDR)
DEFA-Studio für Dokumentarfilme, 1974
Film/Video Format

35 mm

Length in m

1943

Other Title

Kinder unserer Zeit

English Title

No Break for Löffler

Release Date (for Cinema)

Releases

DVD: absolut MEDIEN GmbH / www.absolutmedien.de
Short Summary (English)
Löffler, a young teacher, strives to deal with his 6th form pupils as partners and in an anti-authorian manner. The film discovers a person who - without the least fear of making mistakes - distrusts the prevalent way.
(Quelle: Tell me the story of your life. East German Film Biographies)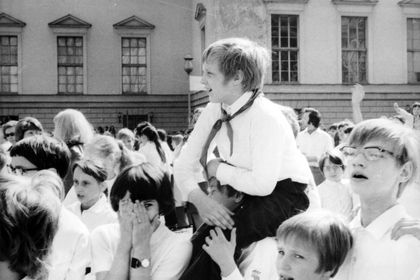 Film Crew
Sound

Henner Golz
Hans-Jürgen Mittag (Tonmischung)
Short Summary (German)
Gerd Löffler, jung, bärtig, engagiert,, muß seiner lebhaften, intelligenten 6c nicht nur Biologie und Sport beibringen, er ist auch zuständig für ihre Disziplin und für ihre Bereitschaft, Hausaufgaben zu machen. Nach dem Unterricht sieht man ihn beim Pionier-Gruppenrat, im Elternbeirat, als Gitarre spielender Leiter der Singegruppe und als Mutmacher in der Sporthalle. Man erlebt die Kinder - lebhaft und munter im Gespräch, diszipliniert im Unterricht, ausgelassen beim Tanznachmittag, eifrig bei Fahnenappell und Elternversammlung, beschämt bei der Selbstkritik.