Laut und leise ist die Liebe
Director: Helmut Dziuba, 66 Min., Color, Feature Film
Deutsche Demokratische Republik (DDR)
DEFA-Studio für Spielfilme, 1972
Film/Video Format

35 mm

Length in m

1829

Other Title

Das Haus hat viele Fenster; Miteinander

English Title

Love Is Loud And Soft

Premiere Date

Release Date (for Cinema)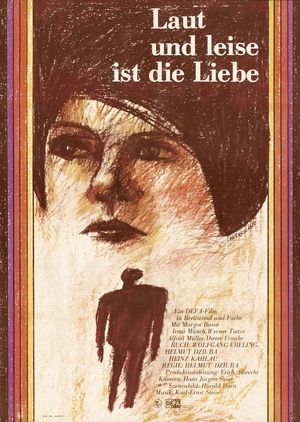 Short Summary (English)
Following a training course, the 28-year-old Helga Baumann, a single mother of two children, meets up with her husband Fred again. They had separated a while ago because their ideas of marriage were completely disparate: The conservative Fred advocated the woman's role of wife and mother, while Helga dreamt about an emancipated partnership between two employed persons. Now, her sister has brought them back together. At first sight, Fred seems to have changed and, once again, Helga cannot resist his advances. But when she meets with difficulties during a fair in Tashkent, Fred yet again proves to be a petty bourgeois by assuring her that they would get along perfectly without her working. When Fred accepts a bonus at work which he has not really earned, Helga eventually realizes that he is not the right man for her and leaves him for good.
(Quelle: filmportal)
Film Crew
Script

Wolfgang Ebeling
Helmut Dziuba
Heinz Kahlau

Cast

Margot Busse (Helga Baumann)
Werner Tietze (Baumann)
Alfred Müller (Fritz Hempel)
Irma Münch (Tanta Magda)
Dieter Franke (Parteisekretär Wolter)
Wolfgang Sasse (Werkleiter Schmidt)
Günter Wolf (Dr. Stein)
Hermann Wagemann (Der Schwiegervater)
Hans-Dieter Schlegel (Meister Böhmke)
Siegfried Fiebig (Arbeitskollege)
Eckhard Becker (Andreas)
André Mettner (Sven)
Martina Werk (Tamara)
Hannelore Telloke (Lehrerin)
Günter Zschäckel (Mann)
Victor Keune (Pförtner)
Ursula Krahn (geb. Soika) (Lächelndes Mädchen)
Horst Giese (Mann im weißen Kittel)
Kurt Höhne (Minister)
Karl Sturm (Junger Kollege)
Hannes Stelzer (Mann der schwangeren Frau)
Karl Neuling (Dienstreisender)
Gerhild Leider (Stewardess)
Vera Grundwald (Stewardess)
Regina Ebel (Bardame)
Peter Ebel (Barmixer)
Gabriele Jäckel (Sekretärin)
Albert Schaffrat (Kneipenbesitzer)
Andreas Grünberg (Schulfreund von Baumann)
Frank Schulz (Schulfreund von Baumann)

Scenario

Wolfgang Ebeling
Helmut Dziuba
Heinz Kahlau

Sound

Gerhard Baumgarten
Christfried Sobczyk

Make-Up

Karl Neuling
Waltraud Dietze

Unit Production Management

Heinz Schwoch
Theo Scheibler

DEFA Photography

Johann Wioland
Wolfgang Ebert

Dubbing (Dubbing Actor)

Friederike Aust (Helga Baumann)
Short Summary (German)
Helga Baumann, 28 Jahre, geschieden, zwei Kinder, kommt von einem Meisterlehrgang zurück und trifft ihren geschiedenen Mann Fred. Ihre Schwester hat diese Begegnung arrangiert. Scheidungsgrund war seine kleinbürgerliche Haltung: Fred hatte sie nur als Ehefrau und Mutter seiner Kinder akzeptiert, nicht aber als eigene Persönlichkeit. Sie geht zu dem Treffen in der Hoffnung, dass er sich geändert hat. Es scheint auch so, sie erliegt erneut seinem Charme. Sie arbeitet sogar im Betrieb recht gut mit ihm zusammen. Ein Misserfolg auf der Messe in Taschkent lässt jedoch deutlich werden, dass Fred sich im Grunde nicht geändert hat. Er erklärt angesichts ihrer Niedergeschlagenheit, dass sie es nicht nötig hätte zu arbeiten. Bei der Prämienverteilung im Betrieb nimmt Fred seine Prämie trotz ungenügender Leistung an. Helga verzichtet und trennt sich endgültig von ihm.
(Quelle: Das zweite Leben der Filmstadt Babelsberg. DEFA-Spielfilme 1946-1992)
Short Summary (Other Languages)
Helga Baumann, separata con due figli, ritornando a casa dopo una formazione professionale, incontra l'ex marito Fred, che aveva lasciato per il suo atteggiamento da piccolo borghese. Fred aveva considerato Helga sempre solo come madre e moglie, ignorando le sue aspirazioni. Ma l'uomo sembra essere cambiato e i due tornano insieme. Anche la comune attività in azienda sembra andare a gonfie vele, ma un insuccesso durante una fiera dimostra a Helga che Fred non è cambiato. La ragazza divorzia definitivamente. (Italienisch)