Mazurka der Liebe
Director: Hans Müller (geb. 1909), 87 Min., Color, Feature Film
Deutsche Demokratische Republik (DDR)
DEFA-Studio für Spielfilme, 1957
Film/Video Format

35 mm

Length in m

2375

Other Title

Der Bettelstudent

English Title

The Love Mazurka

Premiere Date

Release Date (for Cinema)

Literary Source

Millöcker, Carl: "Der Bettelstudent", Operette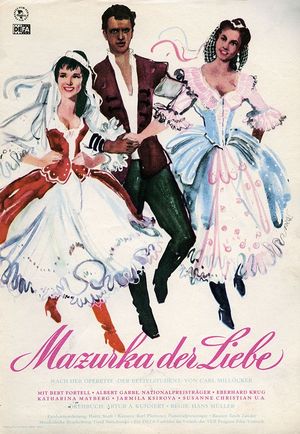 Short Summary (English)
It is the year 1703.The Nordic War, at the start of which King August the Strong's men occupied Poland, has been raging for years. Many people are outlawed., including freedom fighter Jan, who is rescued from Governor Ollendorf's bloodhounds by Countess Kowalska's carriage. The Countess travels with her daughters Laura and Bronislawa to Cracow. At a festive occasion in this town, Colonel Ollendorf takes a hard blow from the Countess's fan when he kisses her daughter Laura on the shoulder. Colonel Ollendorf swears vengeance and decides to have the student Simon, disguised as a prince, marry the Countess. But Simon, a comrade of Jan's, is much more interested in Laura. Jan and Simon brilliantly outfox clumsy and scheming Colonel Ollendorf.
Source: Progress Film-Verleih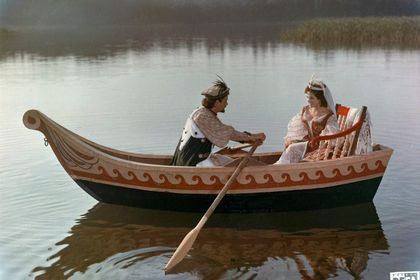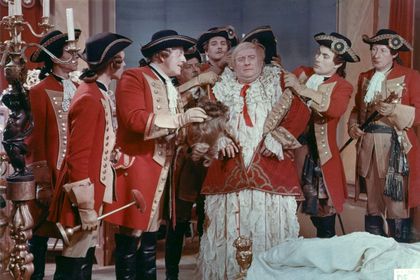 Film Crew
Camera

Karl Plintzner
Peter Sbrzesny (Kameraführung)

Cast

Bert Fortell (Simon)
Albert Garbe (Oberst Ollendorf)
Eberhard Krug (Jan)
Katharina Mayberg (Bronislawa)
Jarmila Ksirova (Palmatica)
Susanne Christian (Laura)
Kurt Mühlhardt (von Henrici)
Charles Hans Vogt (Onouphrie)
Otto Eduard Stübler (Enterich)
Michael Günther (Von Rochow)
Hans Wehrl (Roman)
Herbert Köfer (Honigverkäufer)
Maximilian Larsen (Blinder Bettler)
Curt Lucas (Bürgermeister)
Jochen Diestelmann (Aufständischer)
Rolf Bergmann (Offizier)
Manfred Krug

Music

Carl Millöcker
Gerd Natschinski (Musikbearbeitung)

Sound

Karl Tramburg
Günter Lambert (Musik)

Musical Performance

DEFA-Sinfonieorchester
Chor der Deutschen Staatsoper Berlin (Einstudierung: Prof. Karl Schmidt)
Polnisches Nationalballett (Tanz: "Barocksuite und Mazurka I"; Leitung: Prof. Eugeniusz Paplinski)
Ballett der Deutschen Staatsoper Berlin (Tanz: "Mazurka II und III"; Leitung: Lilo Gruber)
Tänzerinnen und Tänzer der Staatlichen Ballettschule Berlin (Tanz; Leitung: Michael Piel)
Hella Jansen (Gesang Laura)
Elisabeth Ebert (Gesang Bronislawa)
Heinrich Pflausl (Gesang Oberst Ollendorf)
Jean Löhe (Gesang Jan)
Gerd Lutze (Gesang Simon)

Costume Design

Walter Schulze-Mittendorff

Make-Up

Alois Strasser
Gerda Behrendt
Lothar Hiller
Liane Herbst

Unit Production Management

Horst Lockau
Rudolf Kobosil
Christian Urban
Wolfgang Bertram

Consulting

Gottfried Kolditz (Musiktechnische Beratung)
Short Summary (German)
Die Verfilmung des Anfang des 18. Jahrhunderts in Krakau angesiedelten "Bettelstudenten" von Millöcker beginnt mit der Begegnung Simons und des polnischen Freiheitskämpfers Jan - in der Kutsche der gräflichen Familie Nowalska. Simon zieht mit der Gitarre durchs Land, um sich sein Studium zu verdienen, Jan ist auf der Flucht vor sächsischen Besatzungs-Soldaten. Sie verlieben sich in die beiden Nowalska-Töchter Laura und Bronislawa und fahren mit ihnen zum Fest des Adligen Ollendorf, des von August dem Starken eingesetzten Gouverneurs. Als Ollendorf Laura zu nahe tritt, versetzt deren Mutter ihm einen Schlag mit dem Fächer. Simon und Jan werden aufgrund ihres höhnischen Lachens von Ollendorf eingesperrt. Aus Rache an Mutter Nowalska will er den armen Studenten Simon als Fürsten verkleiden und mit ihr verheiraten. Doch Jan und Simon überrumpeln Ollendorf und jagen ihn mithilfe politischer Häftlinge davon.
(Quelle: Das zweite Leben der Filmstadt Babelsberg. DEFA-Spielfilme 1946-1992)
Short Summary (Other Languages)
Nel XVIII secolo, Simon, studente squattrinato, attraversa il Paese con la sua chitarra per finanziarsi gli studi. Jan è in fuga dai soldati delle truppe d'occupazione sassoni. Entrambi viaggiano sulla carrozza dei conti Kowalska e s'innamorano delle due figlie Laura e Bronislawa, che accompagnano al gran ballo del Governatore Ollendorf. Quest'ultimo, per vendicarsi sulla madre delle ragazze, vuole travestire Simon da Principe e farlo sposare con Laura. Ma Jan e Simon sorprendono Ollendorf e, con l'aiuto di prigionieri politici, lo costringono alla fuga. (Italienisch)