Steinzeitballade
Director: Ralf Kirsten, 83 Min., Black-White, Feature Film
Deutsche Demokratische Republik (DDR)
DEFA-Studio für Spielfilme, 1960
Film/Video Format

35 mm

Length in m

2339

Other Title

Anna Lubitzke; Guten Morgen, Berlin!

English Title

Stone Age Ballad

Premiere Date

Release Date (for Cinema)

Literary Source

Turek, Ludwig: "Anna Lubitzke", Roman
Short Summary (English)
We encounter seven women in STONE AGE BALLAD. These women have been bombed-out, suffered miserably, are worried about their loved ones, and are barely hoping or even despairing for a little bit of happiness when they meet up before demolition chief Scharrhahn's handcart, each trying to earn enough to gain a ration card. Marta Breuer, resolute, by no means timid and anxious to gain an advantage; Clarissa Stoltze, her heart full of desire; Mother Knorz who provides the young wastrel Herbert with a new home; the lady Ziska who tends to skive at the expense of others; the young Inge, whom the driver, Strubbel, tries to woo; and the ever-serious and introverted Hermine Säuberlich and Anna Lubitzke, who swap their fat rations for a few cigarettes. They don't know a great deal about each other until one day when Säuberlich breaks down on top of the mountain of rubble and cannot cover up the truth about her impoverished hole of a dwelling place any longer. From this day onwards, everyone begins to have time for each other and, because they all help the most miserable among them, their lives recover a sense of purpose.
(source: 41. Internationale Filmfestspiele Berlin 1991 Dokumentation/ From: "Tribüne", 14.01.1961)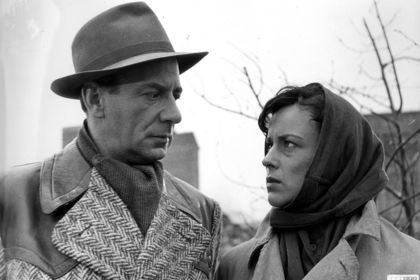 Film Crew
Script

Ralf Kirsten
Heinz Kahlau

Cast

Gisela Rimpler (Anna)
Elsa Grube-Deister (Breuer)
Friedel Nowack (Mutter Knorz)
Gina Presgott (Stoltze)
Agnes Kraus (Säuberlich)
Ruth-Maria Kemper (Ziska)
Monika Reeh (Inge)
Gerd E. Schäfer (Scharrhahn)
Günter Naumann (Ferdinand)
Peter Sturm (Berger)
Manfred Günther (Strubbel)
Willi Neuenhahn (Maurer)
Carola Braunbock (Tuchelmann)
Margrit Glaser (Mollenhauer)
Johannes Weidmann (Großvater)
Adolf Peter Hoffmann (Krämer)
Alexander Papendiek (Kutze)
Trude Kork (Budenbesitzerin)
Günter Margo (Schieber)
Peter Kiwitt (Dicker)
Ursula Alexa (Frau am Brunnen)
Wolfgang Kalweit (Pfleger)
Edith Volkmann (Frau Krüger)
Maika Joseph (Frau vom Jugendamt)
Monika Degner (Freundin von Inge)
Bernd Stockenberg (Herbert)
Ursula Heberlein (Erika)
Wolfgang Erfurth (Junge vom Rummel)

Costume Design

Elli-Charlotte Löffler
Lydia Fiege

Make-Up

Hanns (auch: Hans) Wosnik (auch: Wosnick)

Unit Production Management

Heinz Ullrich
Bruno Schlicht

Text

Gisela Steineckert (Gedichttext)
Short Summary (German)
Ein Trupp Trümmerfrauen arbeitet im zerstörten Berlin des Jahres 1946 für den Bauunternehmer Scharrhahn. Jede denkt nur ans eigene Überleben, verheimlicht die kleinen, unter den Trümmern gemachten Funde ängstlich vor den anderen. Nur die alte Frau Knorz und die Vorarbeiterin Anna Lubitzke versuchen, Hilfsbereitschaft unter den Frauen zu wecken. Anna gelingt es, sie zum gemeinsamen Vorgehen gegen ihren Zement schiebenden Bauherrn zu bewegen. Nach seiner Verhaftung übernimmt Anna die Leitung des Betriebes. In freiwilliger Arbeit errichten die zur Einsicht gekommenen Frauen für die in den Trümmern hausende Kollegin Hermine eine Laube am Stadtrand und festigen ihren Gemeinschaftssinn bei einer fröhlichen Richtfestfeier.
(Quelle: Das zweite Leben der Filmstadt Babelsberg. DEFA-Spielfilme 1946-1992)
Short Summary (Other Languages)
Nel 1946 un gruppo di donne si occupano a Berlino della rimozione delle macerie dopo la seconda guerra mondiale. Ognuna di loro pensa alla propria sopravvivenza e custodisce per sé i piccoli oggetti ritrovati scavando. Solo la vecchia signora Knorz e Anna Lubitzke, la caposquadra, si dimostrano pronte ad aiutare tutte. Dopo l'arresto del datore di lavoro, Anna assume la direzione dell'azienda e insegna alle altre, che solo restando unite possono tirare avanti. Con l'impegno volontario di tutte, le donne costruiscono per la collega Hermine una pergola in periferia e festeggiano assieme la copertura del tetto. (Italienisch)
Ce sont sept femmes que nous recontrons dans le film de la DEFA...
Sinistrées par les bombardements, elles sont dans la misère, elles tremblent pour l'être cher ou ont perdu l'espoir; advides d'un peu de bonheur, elles sont réunies autour des brouettes de l'entreprise de démolition Scharrrhahn pour avoir droit à la carte d'alimentation des travailleurs. Marta Breuer, résolue et pas bégueule, soucieuse de ses intérêts, Clarissa Stoltze qui a le vague à l'âme, Mutter Knorz, qui recueille chez elle le petit Herbert, Madame Ziska, qui laisse volontiers les autres travailler pour elle, la jeune Inge pour laquelle Strubbel, le chauffeur, est aux petits soins, Hermine Säuberlich qui échange ses tickets de matière grasse contre quelques cigarettes et Anna Lubitzke, toujours sérieuse et réservée. Elles ne savent pas grand'chose les unes des autres jusqu'au jour où elle habite. A partir de ce jour-là, chacune peut compter sur les autres et en aidant ensemble les plus démunies, elles retrouvent pour elles-mêmes un sens à la vie. (Französisch)
(source: 41. Internationale Filmfestspiele Berlin 1991 Dokumentation/ Extrat de: "Tribüne", 14.01.1961)