Vom Fröschlein und seinem Reifen
Director: Heinz Nagel, Color, Animation Film
Deutsche Demokratische Republik (DDR)
DEFA-Studio für Trickfilme, 1964
Film/Video Format

35 mm

Length in m

105

Type of Animation

Silhouettenfilm

English Title

The Little Frog and His Tire

Release Date (for Cinema)

Releases

DVD: ICESTORM Entertainment GmbH / www.icestorm.de
Short Summary (English)
A little frog jumps out of the pond and wants to see the world. He is excited about all his new discoveries… until he meets the dangerous stork, who almost eats him. Luckily, he manages to escape at the last minute.
(Source: University of Massachusetts (UMASS) - DEFA Film Library)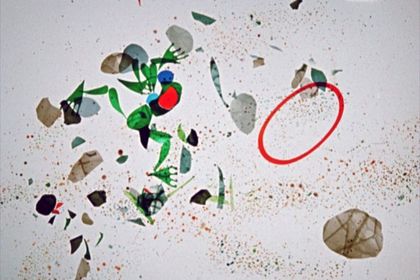 Film Crew
Production Manager

Ernst Schade
Eberhard Wiedrich (Gesamtleitung)

Design

Gottfried Reinhardt (Figuren; Silhouetten)

Animation

Heinz Nagel (Puppenführung)
Short Summary (German)
Ein junges Fröschlein springt aus dem Teich, um die Welt zu beäugen. Es findet sie wunderschön, denn es kennt noch nicht die Gefahr, die ihm vom Storch droht. Beinahe wird es gefressen, aber es kann sich retten, indem es dem Storch seinen Spielzeugreifen in den Schnabel klemmt.
(Quelle: Die Trick-Fabrik. DEFA-Animationsfilme 1955-1990)