Wer reißt denn gleich vor'm Teufel aus
Director: Egon Schlegel, 92 Min., Color, Feature Film
Deutsche Demokratische Republik (DDR)
DEFA-Studio für Spielfilme, 1977
Film/Video Format

35 mm

Length in m

2507

Other Title

Der Teufel mit den drei goldenen Haaren

English Title

Who´s Afraid Of The Devil

Premiere Date

Release Date (for Cinema)

Literary Source

Gebrüder Grimm: "Der Teufel mit den drei goldenen Haaren", Märchen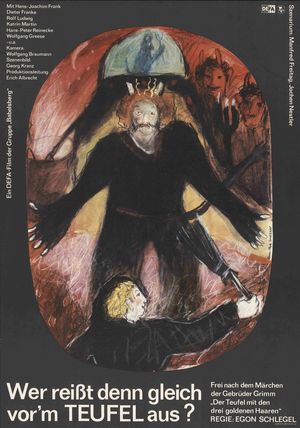 Short Summary (English)
The poor lad Jacob is dogged by misfortune. Now even the king is out to get his hide - he hands Jacob his own death sentence in a sealed letter. Luckily, Jacob falls into the hands of friendly robbers who summarily alter the contents of the letter. The next day he envisions himself as the princess's bridegroom. However; this joyful moment is not to last long. The duped king sends Jacob to the devil to get the latter's three golden hairs. In this way, the king hopes to get rid of Jacob for good. Jacob sets out; on the way, he promises the king's exploited subjects to ask the devil how they can escape their misery. Once he has arrived in hell, he takes advantage of the she-devil's absence by disguising himself in her clothes.
Absolutely fearless, he snatches the three golden hairs from the the devil and on top of this, he finds out what the solution for the farmers is. He returns ho me a hero and now there's no reason why he should not get married. And the three golden hairs are returned to the pitifully begging devil.
Source: Progress Film-Verleih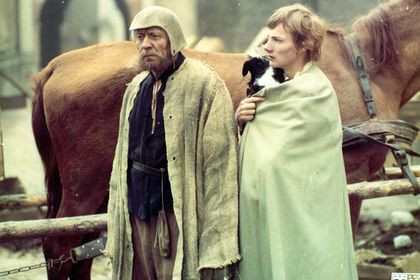 Film Crew
Film Editing

Anneliese Hinze-Sokolow (auch: Sokoloff, Sokolowa, Hinze)

Cast

Hans-Joachim Frank (Jakob)
Dieter Franke (Teufel)
Rolf Ludwig (König)
Katrin Martin (Prinzessin)
Wolfgang Greese (Steuereintreiber)
Hannjo Hasse (Hofmarschall)
Fred Ludwig (Jadgmeister)
Peter Köhncke (General)
Klaus Powollik-Ronay (Hauptmann)
Hans Klering (Hofkaplan)
Harry Merkel (Schreiber)
Hans-Peter Reinecke (Räuberhauptmann)
Peter Dommisch (Räuber)
Peter Friedrichson (Räuber)
Horst Papke (Räuber)
Ernst-Georg Schwill (Wirt)
Katharina Rothärmel (Wirtin)
Kurt Radeke (Jonas)
Paul Arenkens (Nachbar)
Jochen Diestelmann (Wachoffizier)
Nico Turoff (Wächter)
Frank Krischak (Kind)
Susanne Fähling (Kind)
Berit Seipold (Kind)
Steffen Voss (Kind)
Ronald Thurleg (Kind)
Thilo Hanisch (Kind)
Jürgen Haseloff (Kind)

Assistant Director

Jochen Diestelmann
Mathias Schubert

Assistant Camera

Hans-Ullrich Raschke
Heinz (auch: Hein) Wenzel

Scenario

Manfred Freitag
Joachim Nestler

Sound

Rosemarie Linde
Werner Schulze
Gerhard Ribbeck

Costume Design

Barbara Braumann (geb. Müller)

Make-Up

Klaus Petzold
Margrit Neufink
Hannelore Petzold
Christine Steinfelder

Unit Production Management

Dieter Krüger
Karl-Heinz Rüsike
Theo Scheibler

Animation

Erich Günther
Heiko Ebert
Frank Wittstock
Tony Loeser

DEFA Photography

Heinz (auch: Hein) Wenzel
Short Summary (German)
Der arme Bursche Jakob wird wegen seiner Furchtsamkeit von den Leuten oft verspottet, und vom Missgeschick ist er außerdem verfolgt. Der König hat es ebenfalls auf sein Leben abgesehen. Mit einem Brief schickt er Jakob zum Schloss, und wäre er nicht Räubern in die Hände gefallen, dann hätte er den Tag nicht überlebt. So aber feiert er Hochzeit mit der Prinzessin. Der genarrte König entsendet ihn zum Teufel, drei goldene Haare zu holen - in der Hoffnung, Jakob nicht wiederzusehen. Der marschiert los und verspricht unterwegs den vom König ausgebeuteten Untertanen, den Teufel nach einem Ausweg aus ihrer Not zu fragen. In der Hölle kommt er mit einer List - er tarnt sich mit den Kleidern der abwesenden Teufelin - zu den drei goldenen Haaren und kehrt als Held zurück.
(Quelle: Das zweite Leben der Filmstadt Babelsberg. DEFA-Spielfilme 1946-1992)
Short Summary (Other Languages)
Oltre ad essere perseguitato dalla sfortuna, Jakob viene anche preso in giro per la sua timidezza. Il re, poi, mira alla sua vita. Con una lettera lo invita a recarsi al castello, dove, se non fosse stato aggredito dai banditi, sarebbe sicuramente morto. Ora invece, può festeggiare il matrimonio con la principessa. Nella speranza di sbarazzarsi finalmente di lui, il re lo invia dal diavolo per strappargli tre capelli d'oro. Con uno stratagemma Jakob s'introduce all'inferno, indossa i panni della diavolessa, strappa al diavolo i tre capelli d'oro e ritorna trionfante. (Italienisch)