The Youthful View
Helmut Dzuiba's Feature Films in DEFA's Last Decade
German Title: Der jugendliche Blick – Helmut Dziubas Spielfilme im letzten Jahrzehnt der DEFA
Stefan Röske
254 Pages
Paperback, 14,8 x 21 cm
Price: 5,00 Euro (plus shipping)
ISBN: 978-3-00-018519-9 (3-00-018519-4)

Obtainable at: info@defa-stiftung.de
The Book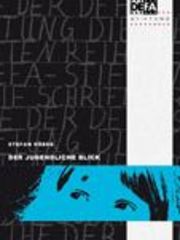 The work of the DEFA director  Helmut Dziuba has always shown a high interest in the individual problems of the adolescent generation. Several films on juvenile subjects are analysed in detail, among others Sabine Kleist, Age 7... (Sabine Kleist, 7 Jahre…, 1982), Your Presence Is Imperative (Erscheinen Pflicht, 1983), Forbidden Love (Verbotene Liebe, 1989) and Jana And Jan (Jana und Jan, 1991/92). An interview at full length with the director completes the book.
Samples (in german):
The Author
Stefan Röske (born 1977 in Potsdam) studied film and theatre studies and modern German literature in Berlin until 2005. This book is the extended version of his final thesis.